Get a tent, we bring the pARTy!
pARTytent © is a temporary exhibitionplace for artworks of a changing group of Dutch artists.
While travelling around, Anke Land and Pier Pennings bring along the work of six carefully selected Dutch artists in their hand-luggage. Wherever they perch an art-organisation or artists-initiative pitches a pARTytent for one day in or in front of their location. In this tent Anke and Pier show the artworks. The local art-organisation invites a group of her "own" artists in the tent with works to confront them.
Anke, Pier and the artists stay together all day long. It's the best way to communicate. Doing so, pARTytent is an international exchange-project and a growing network, with a virtual show- and playground on
www.p-ART-ytent.nl
.
If you want to meet them, mail them! Are you a challenging and innovative art-organisation or artists-initative, Anke and Pier can turn your partytent into thé pARTytent.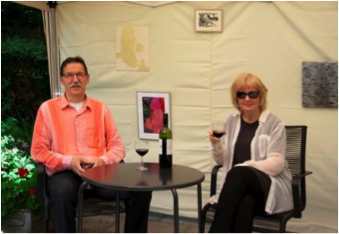 pARTytent ©
Anke Land & Pier Pennings
pier@art-policy.nl
00-31-6-30164259
or use
contactpage