How pARTytent works!
The Dutch artworks on travel are small, 25×35 cm. max., and no more than 12 works in total. The locals bring along a comparable temporary collection of 4 to 8 real good artists, carefully selected by the guest-organisation.
On the pARTy-day Anke and Pier arrive in the morning and hang out the artworks in the tent. At around 12.00 o'clock the pARTy starts. Everybody brings along a well filled picnicbag and cooler to stay comfortable. Thus a creative confrontation happens. Of course, the pARTytent is placed well in sight of the main public.
The pARTy goes on through the afternoon and maybe the evening, maybe even the night. But no party lasts forever, not even this pARTy.
When the pARTy's over, everybody takes his work and empty bottles back home. Maybe a bit alone, maybe with a soar throat, hoarse by talking, but enriched with ideas, views and visions. And, above all, with a very funny feeling! How the hell could this happen?!
What's left in town is a postcard (A5) with 6 pictures of the works of 6 bloody good Dutch artists.
And the website leads to a growing number of new roads on the internet. On
www.p-ART-ytent.nl
this continuing story is instantly reported and kept in archive, richly flavoured with pictures.
A new track explores the world.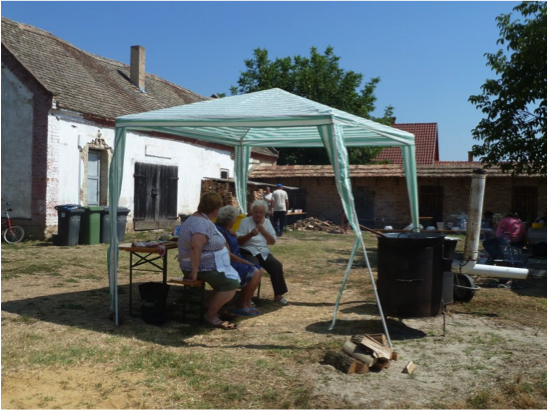 pARTofgoulashtent